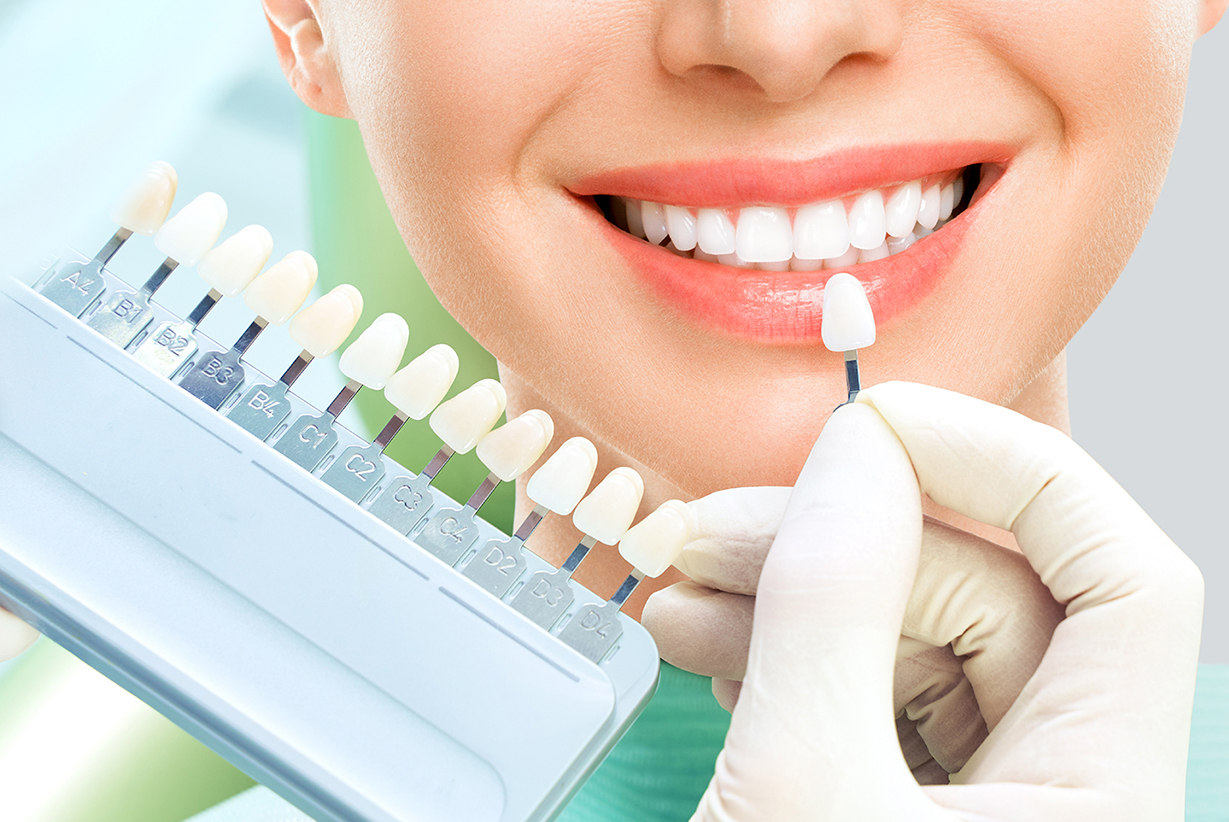 Multilingual WordPress showcase site
Founty Dental Center, a dental office in Agadir, Morocco. It is directed by Dr. HARTI Meriem, a dentist specialized in cosmetic dentistry (veneers), implantology and orthodontics. The center offers high quality dental care using state-of-the-art technology for procedures such as dental implants, crowns or prostheses.
We took into account the requirements of Dr. HARTI Meriem to create a user-friendly and functional online platform for her potential patients.
We also helped her develop a complete digital strategy ranging from her visual identity to an effective presence on social media reflecting her brand image in a consistent and professional manner. We also implemented a targeted advertising strategy to help promote its services to a wider audience.
Visit website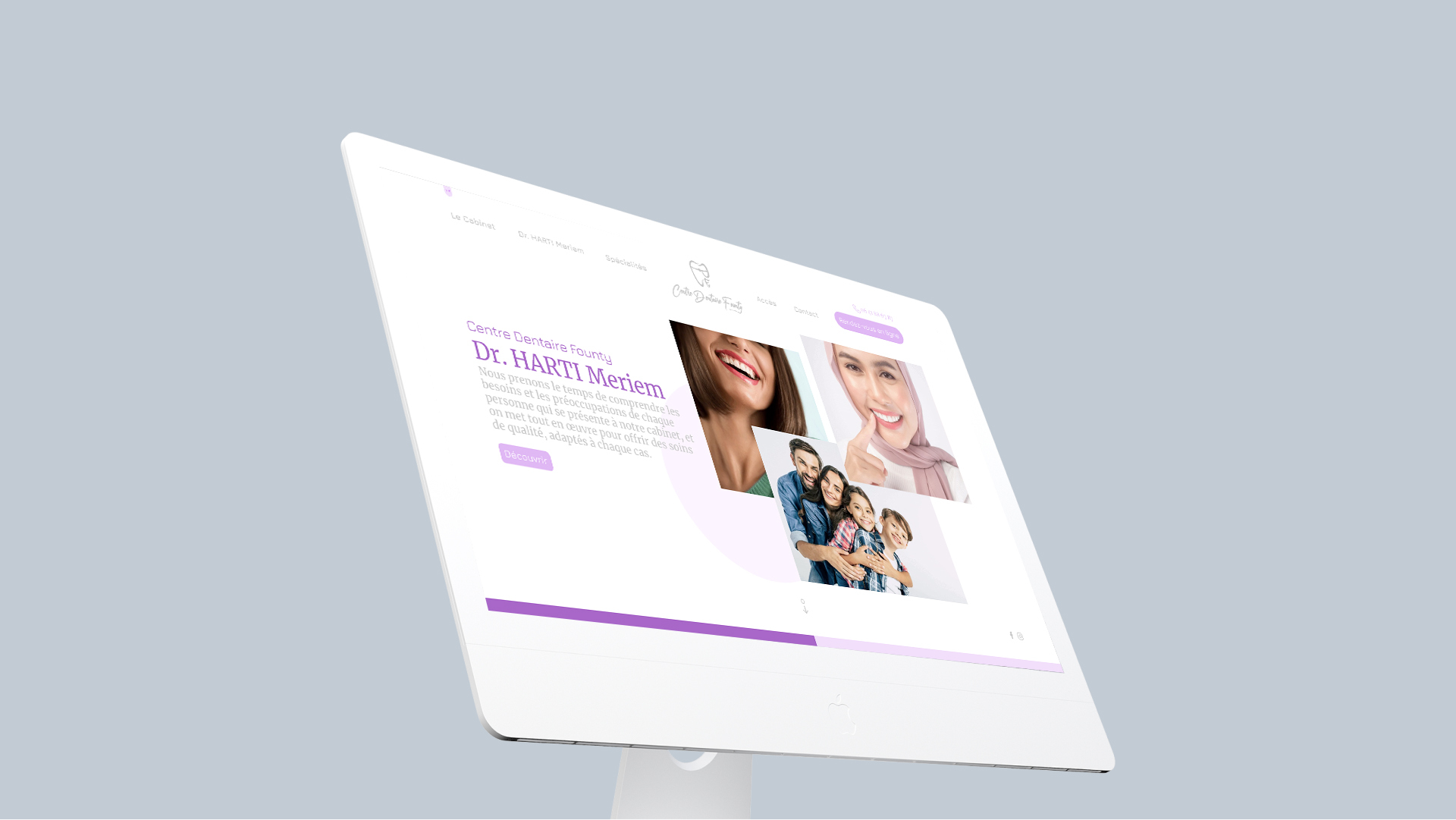 Multilingual website
We have developed a multilingual WordPress website, representing all of the practice's services and acting as a contact point between professionals and patients. It allows to improve communication with patients, to reassure them and to answer their needs.
The site also highlights the practice, its areas of expertise and photos of the interior of the practice have been taken to give patients a glimpse of the environment in which they will be treated. This detailed presentation allows patients to better understand the services offered and make informed decisions.
In addition, the multilingual version of the site reaches a wider audience by providing a user experience that is tailored to different languages. This attracts local and visiting patients and provides them with a platform to communicate effectively with the practice.
We also adopted a UI/UX design approach that respects the graphic charter of the practice so that the website is easily recognizable and identifiable. The website is responsive to allow for an optimal user experience on all devices, whether it be a computer, a tablet or a smartphone.
SEO & Local SEO for better positionning
We have optimized the content of the website by using relevant keywords to meet the basic fundamentals of SEO. This will improve the site's ranking on the first pages of search engine results.
In addition to the site SEO, we also worked on the practice's Google My Business page to provide a consistent user experience. This optimization also improves the practice's visibility in local searches and builds patient trust.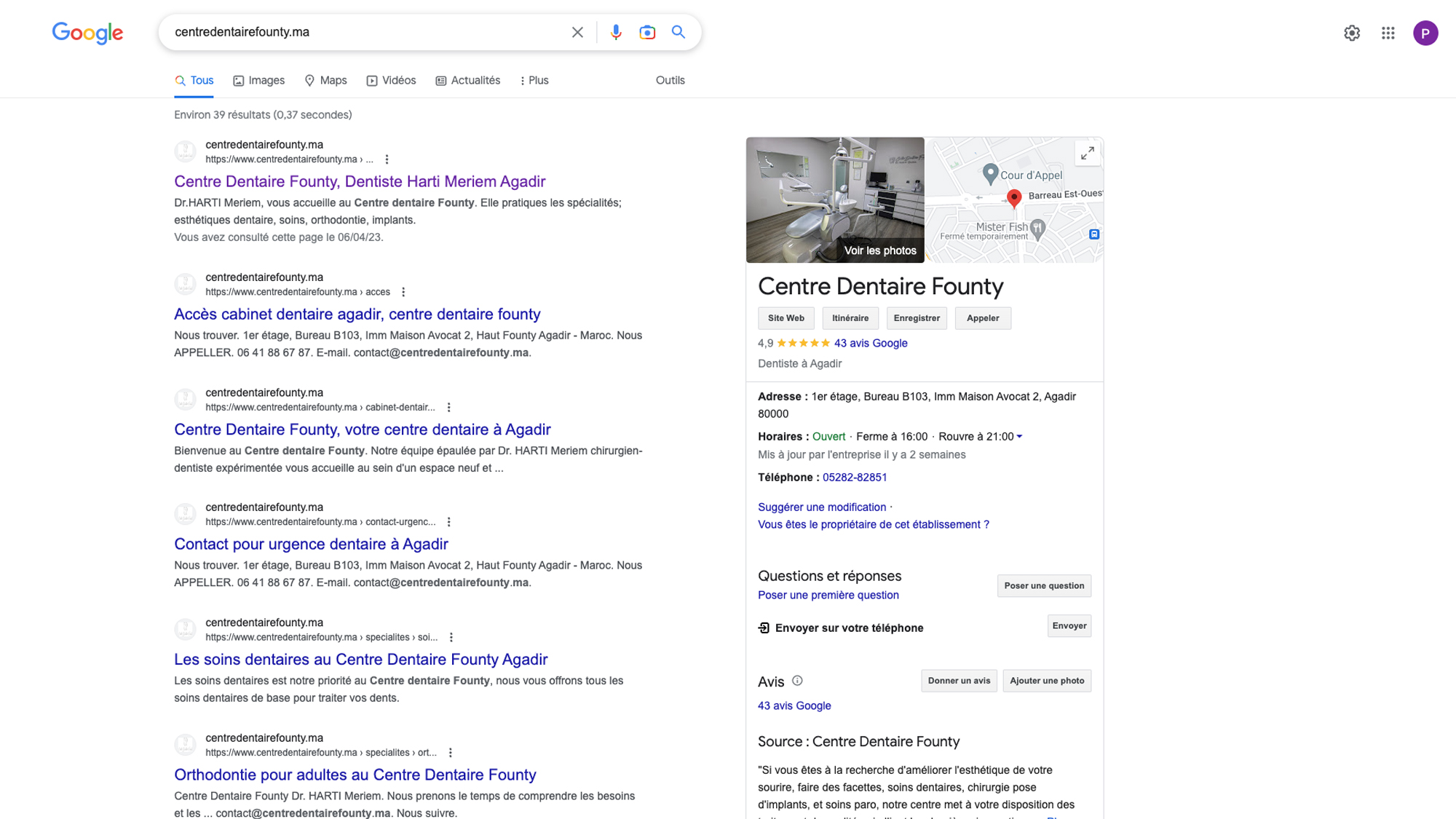 Consulting and assistance in digital strategy
Ads campaign

We have also implemented Google Ads campaigns for lead generation. We used ad optimization techniques to improve the conversion of visitors into leads. This campaign increased the visibility of the practice on paid search results and attracted new patients.

Social Media Presence

We optimized Dr. HARTI Meriem's Instagram account to match her overall digital strategy. First, a thorough analysis of the page was conducted to understand the preferences and expectations of the target audience. Then, a publication schedule was set up to ensure a frequency of publications. Publications were carefully crafted to ensure that they were aesthetically pleasing, engaging and relevant to the target audience. Finally, regular analytics were performed to track the page's performance and continued subscriber growth and to ensure that the page remained relevant and engaging to the target audience.

This approach yielded significant results, with an increase in followers from 4000 to 18000. By working on the Instagram account, we helped strengthen the firm's social media presence, improve its brand image and awareness. This significant increase in the number of followers shows the positive impact of our work on the firm's digital strategy.